Fishing and Wildlife Charters
We are able to customize our fishing and wildlife charters to meet the needs of groups of up to 12 people. Silver Dawn is a fast, safe, comfortable boat and Courtmacsherry offers 24 hour access to the sea, allowing us the ability to leave or return to port at any stage of the tide.
Angling tends to improve as the water temperature increases through the spring although cod fishing in particular can be good early and late in the season.
Reef and ground drift fishing is generally the most productive method. There's the potential to catch in excess of 20 species if you adapt your lures and baits accordingly, and are also prepared to drop right into the seriously rough ground that we often drift.
Pollock, ling, coalfish, wrasse, pouting, mackerel and many more species are available. In addition, the cleaner bottom offers an assortment of flatties, dogs, whiting and rays.
Weather permitting, from mid June through to October, it's usually possible to target blue shark, and increasingly porbeagles.
Blues are predominately 10-20 miles offshore, but porbeagles are often much closer in.
In 2018, we were the first charter boat ever in Ireland to catch, tag and release a blue shark every month from May to November. Then in 2020, we caught, tagged and released the first ever blue shark in Irish waters in December.
As a licensed bluefin tuna tagging boat, much of our autumn is spent in pursuit of these giant big game fish.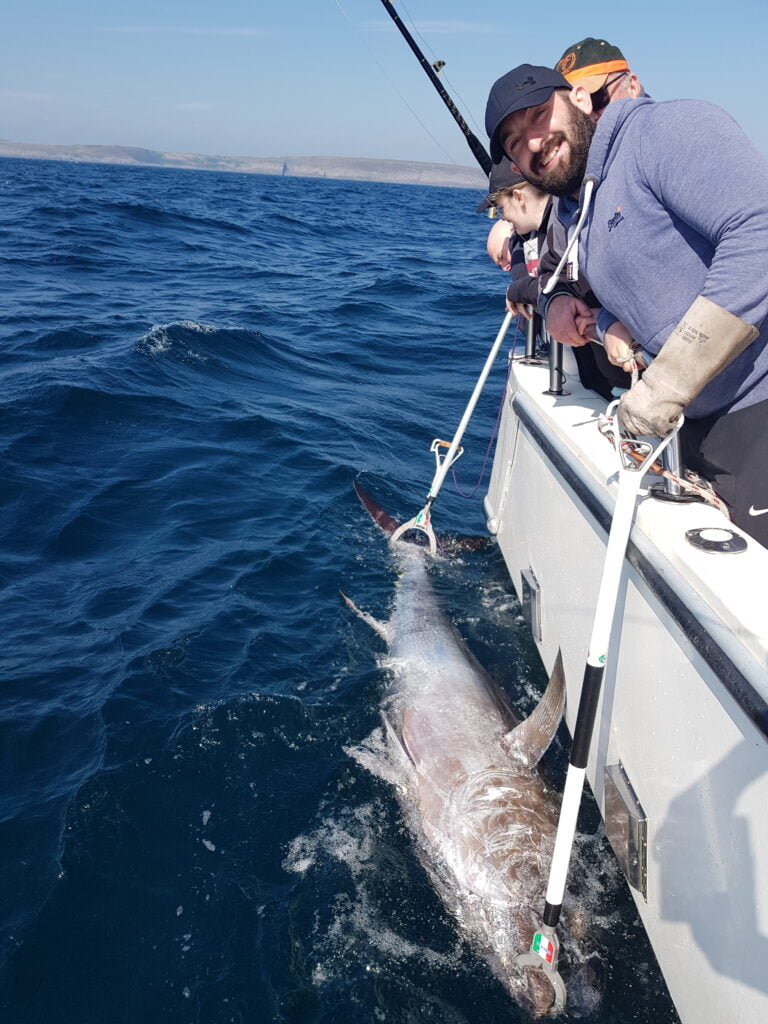 With Silver Dawn's 60 mile offshore licence, weather permitting, we have the option to reach many distant wrecks that no other licenced charter boat can fish. These trips are only suitable for experienced anglers who have tackle capable of dealing with the type of species we may encounter. Due to distance involved, costs will be higher than standard charters, but the rewards often outweigh them. We travel out and back in excess of 20 knots and usually spend 10 hours or more at sea allowing plenty of time to target our chosen wreck/wrecks. As any experienced wreck angler knows, there's never a guarantee of hitting specimen fish, but this type of fishing does give you the greatest opportunity of doing so.
The wildlife off the coast can be amazing and we are able to offer full charters taking us offshore to look for dolphins, whales and pelagic birdlife, often encountering rare visitors to Europe.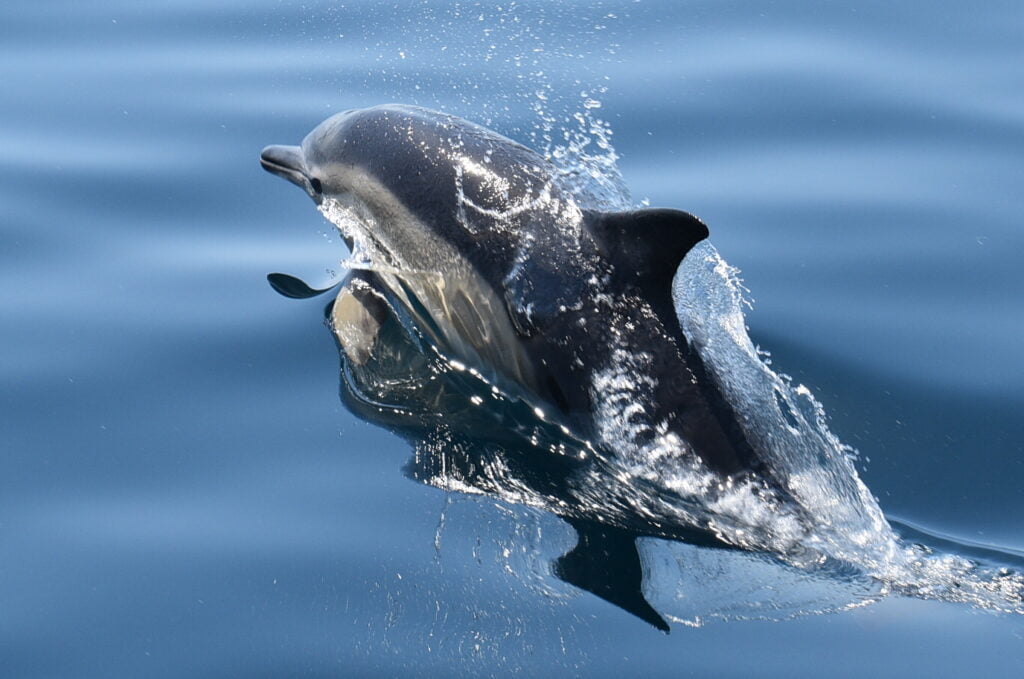 Bring suitable clothing to keep you warm and dry, and any refreshments you may need for your trip. Be aware also that the sun has a much stronger effect out on the sea than it has on land, so please remember the suncream. Cameras and binoculars may also come in very handy!
Silver Dawn is equipped with all necessary safety equipment for a licensed charter boat, including automatic liferaft, radios, emergency beacon, flares, first aid kit and lifejackets. Having a 60 mile offshore licence means that Silver Dawn has additional safety measures including twin engines, additional bulkheads, satellite phone and a search and rescue transponder.
She is a strong and safe vessel, but people should be aware that being on the water can provide additional hazards that should be taken into account before booking a charter. For example, ladders and pontoons can be wet and slippery as can the deck at times. Climbing the ladder to access the flybridge should only be done in good sea conditions and at all times the handrail should be used. If you are on an angling charter, knives and hooks, as well as some fishes teeth or spines, can inflict injury if you do not use appropriate care when on board.
Whereas we are very happy to take children on our charters, parents or guardians must take responsibility for their supervision during the day.
Prices for chartering Silver Dawn will vary dependant on the length of the charter and distance offshore. They may also vary dependant upon tackle requirements. As a rule, we only offer full day charters.
Please note: due to recent upheavals, particularly with the cost of fuel, prices will continually remain under review. There is no issue with any customers wishing to cancel booked charters due to any necessary price increase.
As a guideline, a standard 7-8 hour charter for Silver Dawn starts at €700 for between 1 and a maximum of 12 people. This will increase for longer and more distant offshore charters and distant offshore wreck charters. Charters for bluefin tuna are €850 as we run the engines the whole time, and supply all specialist tuna angling gear.