Silver Dawn is one of only two Irish charter boats to have been allocated a P5 60 mile offshore licence. As such, in suitable conditions, we are able to travel to areas off the south coast of Ireland that no other charter boat can access. Silver Dawn reaches and exceeds the safety requirements of this licence. She is able to carry a maximum of 12 passengers and 2 crew. A large flybridge along with a full walk around deck provide unparalleled safe viewing opportunities. The walkaround deck is also a great benefit when drift fishing. Two 430hp Volvo diesel engines provide ample power to get us out quickly to the chosen fishing grounds and wildlife locations.
The vast sea area that Silver Dawn is licensed and insured to operate charters in.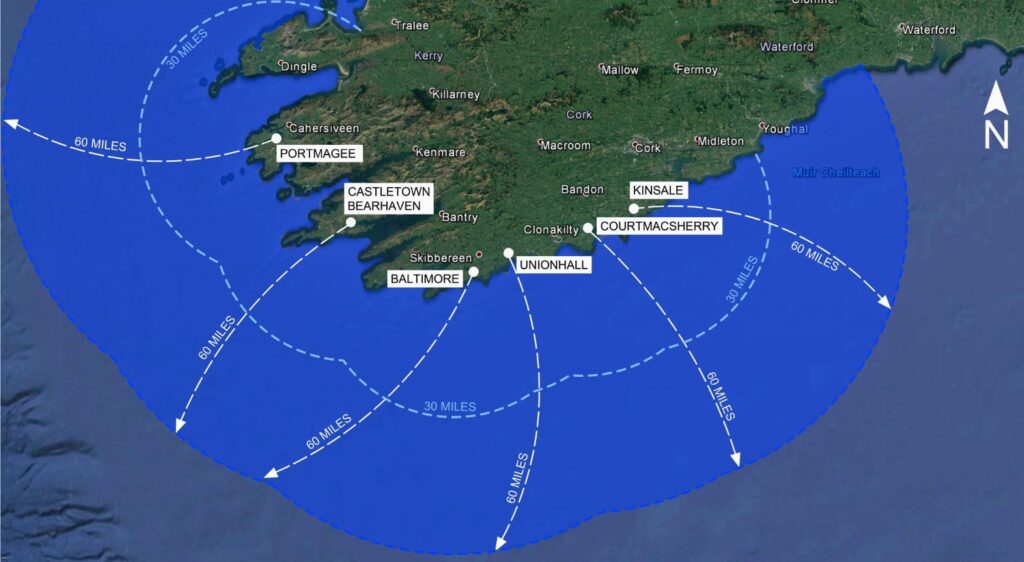 I have nearly 40 years' experience of boat ownership and fishing around the coasts of Wales, north Devon, Cornwall and Ireland. In 2013 I decided to take the plunge and set up our charter business, Clonakilty Charters Ltd. Initially operating the licensed charter boat Tigger out of Ring/Clonakilty, we are now operating as West Cork Charters out of Courtmacsherry with our licensed charter boat Silver Dawn.
I enjoy angling and being on the water generally. Given decent weather, I can be found out on Silver Dawn for the majority of my 'days off'. I get as much enjoyment from seeing a young or novice angler catching their first fish as I do seeing one of our more experienced anglers bringing yet another specimen to the net. I'm also often in awe at the sheer diversity of wildlife that we can encounter in the rich West Cork waters.